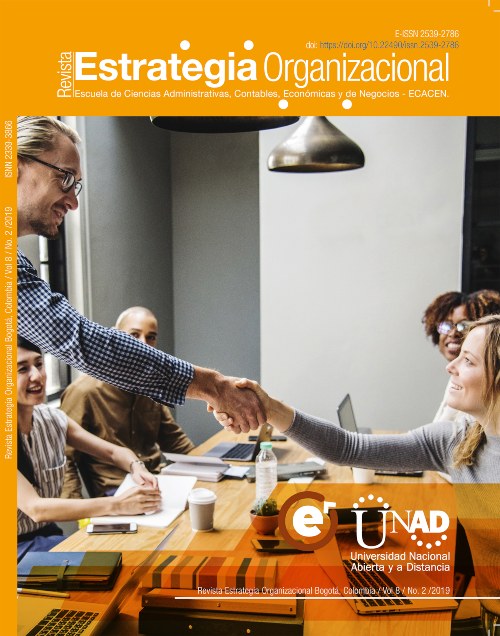 Descargas
Los datos de descargas todavía no están disponibles.
Administration of a Social Work Model for Local Cooperativism
Sección
Artículo de Investigación
Autores/as
Cruz García Lirios
Universidad Nacional Autónoma de México
, Mexico
The discussion on the relationship between social work and local cooperativism in order to administrate a model for the study of the phenomenon was the objective of this work. A study was carried out with an intentional selection of sources indexed to international repositories from 2010 to 2019, although the design of the research limited the information to the local area, suggesting the extension of the work in other global databases.
Cooperativism, Social Work, Model, Administration, Economy.
Amemiya, M., Valdés, O., Morales, F. and García, C. (2018). Specification of a model for the study of sustainable local development. Eureka, 15 (1), 36-57
Barranco, C., Delgado, M., Melin, C. and Quintana, R. (2010). Social work in housing: research on perceived quality of life. Portularia, 10, 101-111
Capdevielle, J. (2011). The concept of habitus. Anduli. Andalusian Journal of Social Sciences, 10, 31-45
Carreón, J. (2014). Towards the consensual management of water resources. Interdisciplinary, 31 (1), 1-12
Carreón, J., Hernández, J. and García, C. (2016). Public agenda and sociopolitical participation. Fermentum, 26, 41-56
Castro, M. (2011). Linguistic habit and right to information in the medical field. Revista Mexicana de Sociología, 73, 231-259
Cerón, A. (2012). Habitus and capitals: Provisions or social devices? Teóric notes as metodológic as for social research. Latin American Journal of Methodology of Social Research, 4, 68-82
Eito, A. (2012). The user's participation in social work. A look from the present towards the conception of humanism. Actions and Social Investigations, 32, 245-255
Figueroa, O., Fierro, E., Martinez, J. Chávez, JC and García, C. (2017). Governance of the economy 4.0: Contrasting a model of the perceptual determinants of self-employment.Psychology, 8 (2), 47-59
Fortich, M. and Moreno, Á. (2012). Elements of field theory. Verba Iuris, 27, 47-62
France, A. (2011). Reflections on the Second World Conference on: Social Work and Social Development, actions and impacts. Directions, 7, 22-31
Fuentes, V., Muyor, J. and Galinda, Z. (2010). Social work and new forms of care reorganization. An approximation to the purpose of the law of dependence. Alternatives, 17, 83-102
García, C. (2014). The professional training of human capital in the civilization of climate change. International Journal of Research in Social Sciences, 10, 107-125
García, C. (2017). Specification of a model for the study of labor interculturalism. Perspectives, 30, 83-109
García, C., Bustos, J.M., Carreón, J. and Hernández, J. (2017). Theoretical and conceptual frameworks around local development. Margin, 85, 1-11
García, C., Carreón, J. and Hernández, J. (2017). Co-management as a security device for local sustainable development. Eureka, 14 (2), 268-289
García, C., Juárez, M. and Bustos, JM (2018). Specification of a model for the study of local governance. Synchrony, 22 (73), 459-472
Gutiérrez, JM, García, C., Valdés, O., Anguiano, F., Sandoval, FR and Campos, G. (2019). Citizenship expected in its perceived contemporaneity. Interstices, 13 (1), 87-97
Hernández J. (2014). Sociopolitical complexity of public transport. Implications for Sustainable Local Development. Reason and Word, 86, 1-27
National Institute of Statistics Geography and Informatics (2010). Women and men in Mexico. Mexico: INEGI
National Institute of Statistics, Geography and Informatics (2010). Child labor in Mexico. Mexico: INEGI
Joignant, A. (2012). Habitus, field and capital. Elements for a general theory of political capital. Revista Mexicana de Sociología, 74, 587-618
Martínez, E. (2013). The problematic genesis of the concept of habitus. Revista Mexicana de Sociología, 75, 125-131
Morera, N. (2010). The link between the social sciences and social work: some elements for discussion. Reflections, 89, 235-241
Quiroga, M., Vargas, F. and Cruz, A. (2010). Social work and social responsibility: notes for an ideological discussion. Tabula Rasa, 12, 175-193
Soto, A., Dorner, A., Garcia, C. and Hernández, TJ (2018). The collective welfare as a topic of family re-socialization in the society of informational capitalism. Utopia and Latin American Praxis, 23 (83), 52-56
Váldés, O., Amemiya, M. and García, C. (2019). Specification of a model for the study of the establishment of multiple water sustainability agendas. Synchronism, 25 (75), 281-298
Veliz, A., Carreon, J., Dorner, A., Estay, JG and Garcia, C. (2018). Democracy, governance and ethical behaviors: transversal axes of training. Option, 34 (86), 152-175
Villegas, E., Rosas, F.J. and García, C. (2018). Social Works towards a quality of life and wellbeing subjective. International Journal of Research in Humanities and Social Studies, 5 (6), 1-14
Zambrano, C. (2010). Nature, culture and development. Contextual social work agenda. Portularia, 10, 111-124
Revista
La revista proporciona acceso abierto inmediato a su contenido, basado en el principio de ofrecer al público un acceso libre a las investigaciones y colaborar a un mayor intercambio global de conocimiento.

Por tanto se acoge a la Licencia Creative Commons 4.0 Atribuciones Reconocimiento – NoComercial – CompartirIgual (by-nc-sa): No se permite un uso comercial de la obra original ni de las posibles obras derivadas, la distribución de las cuales se debe hacer con una licencia igual a la que regula la obra original. Para ver más dirigirse a: http://creativecommons.org/licenses/by-nc-sa/4.0/
La revista permite el autoarchivo después de publicado con la versión editada por la revista tanto en Web personales como repositorios institucionales y de área de conocimiento, siempre y cuando se realice la cita directa a la revista y se de el URL que dirige al artículo en el espacio Web de la revista. No solicita ningún tipo de embargo de los contenidos gestionados. 
Para toda gestión la Revista Estrategia Organizacional se acoje al Código de Conducta COPE para Editores de Revistas y algunas Directrices sobre las Mejores Prácticas de COPE. Se recomienda leer el Código de ética en la sección sobre la revista. (Ver código)
Autor
Los contenidos de los artículos deben ser inéditos, no deben estar en evaluación en otra institución, el contenido no puede ser enajenado de terceros,  no deben tener limitación legal o contractual que le prohiba autorizar su publicación en acceso abierto y medio impreso o digital.
La consecución de derechos de reproducción de todo el material gráfico es responsabilidad de los autores. Por ello, deben enviar las autorizaciones para la publicación y uso de ese material
Cada autor debe firmar la Carta de Cesión de Derechos a favor de la Universidad Nacional Abierta y A Distancia (UNAD) y la Revista Estrategia Organizacional.
Los autores de los artículos seleccionados para publicación deben leer y conocer el código de ética de la revista. En todos los casos el Editor y Comité editorial declaran que las opiniones expuestas son exclusividad y responsabilidad de los autores.
Política de preservación
La Revista Estrategia Organizacional preserva archivos a través de los servidores de la hemeroteca de la UNAD con la plataforma OJS. Este posee la herramienta PKP PLN que permite preservar el contenido de la revista independientemente de donde se encuentre alojado. Gracias a la Red privada de LOCKSS. Se puede ampliar la información en: https://pkp.sfu.ca/2016/08/08/pkp-lockss-pln-update
Adicionalmente, la revista cuenta con protocolos de interoperabilidad OAI-PMH: Open Archives Initiative-Protocol for Metadata Harvesting. Los detalles pueden consultarse en el siguiente link: https://hemeroteca.unad.edu.co/index.php/revista-estrategica-organizacio/oai.