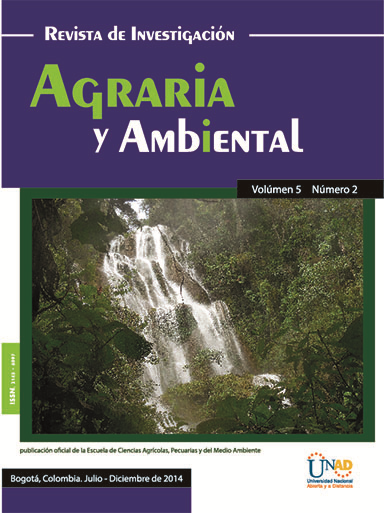 Descargas
Los datos de descargas todavía no están disponibles.
Los nematodos fitopatógenos como inductores de estrés biótico en plantas
Sección
Artículos de Investigación
Autores/as
Donald Heberth Riascos Ortíz
Profesor Auxiliar Universidad del Pacífi co. Buenaventura, Valle del Cauca-Colombia.
, Colombia
Los nematodos fitoparásitos son agentes infecciosos que causan enfermedades en las plantas, a través de diferentes mecanismos, pero especialmente mediante la secreción de factores de patogenicidad denominados Patrones Moleculares Asociados al Patógeno y Efectores. En esta investigación se analiza la forma cómo estas proteínas requeridas por los nematodos para establecerse en sus hospederos, alteran la estructura y función de las células de las plantas, así como también reprograman la expresión génica de las células vegetales. Algunos nematodos, y principalmente los endoparásitos sedentarios, establecen relaciones parasíticas complejas con sus hospederos, en los cuales inducen la formación de sitios de alimentación (células gigantes en el caso de Meloidogyne). Se concluye que estos nematodos inducen la formación de síntomas, a manera de agallas, a nivel de raíces por procesos de hipertrofia (alargamiento celular) e hiperplasia (división celular excesiva). Además, estos daños a nivel de la planta resultan en alteraciones fisiológicas, especialmente por obstrucción de cilindros vasculares, lo que impide la translocación normal de agua y nutrientes, y por consiguiente la expresión de marchitamientos, con efectos deletéreos sobre la producción. De igual manera, las plantas han desarrollado estrategias de reconocimiento de factores de patogenicidad de los nematodos para expresar sus mecanismos de defensa.
efectores, fitoparásitos, hipertrofia, hiperplasia, Meloidogyne
Abad, P. et al. (2008). Genome sequence of the metazoan plant-parasitic nematode Meloidogyne incognita. Nature biotechnology. 26(8): 909-915.
Agrios, G. (2005). Plant pathology. Fifth edition. Elsevier academic press.
Castagnone-Sereno, P. (2006). Genetic variability and adaptive evolution in parthenogenetic root-knot nematodes. Heredity. 96: 282–289.
Collange, B., Navarrete, M., Peyre, G., Mateille, T. & Tchamitchian, M. (2011). Root-knot nematode (Meloidogyne) management in vegetable crop production: The challenge of an agronomic system analysis. Crop Protection 30: 1251-1262.
De almeida Engler, J., De Vleesschauwer, V., Burssens, S., Celenza, J., Inzé, D., Van Montagu, M., Engler, G. & Gheysen, G. (1999). The use of molecular markers and cell cycle inhibitors to analyze cell cycle progression in nematode-induced galls and syncytia. Plant Cell. 11:793-807.
Decraemer, W. & Hunt, D. (2006). Structure and Classification. In: Perry, R; Moens, M. (eds). Plant Nematology. CABI. pp 3-58.
Dropkin, V. & Nelson, P. (1960). The histopathology of rootknot infections in soybeans. Phytopathology. 50: 442-447.
Bird, D. & Kaloshian, I. (2003). Are roots special? Nematodes have their say. Physiol. Mol. Plant Pathol. 62:115-123.
Jahanshahi, F., Sasanelli, N., Hosseininejad, S. & Tanha Maafi, Z. (2014). Effects of the root-knot nematodes Meloidogyne incognita and M. javanica on olive plants growth in glasshouse conditions. Helminthologia. 51(1): 46-52.
Jones, J. & Dangl, J. (2006). The plant immune system. Nature.444: 323-329.
Gheysen, G. & Jones, J. (2006). Molecular Aspects of Plant–Nematode Interactions. In: Perry, R; Moens, M. (eds). Plant Nematology. CABI. pp. 234-254.
Goicoechea, S., Pallero, M., Eggleton, P., Michalak, M. & Murphy-Ullrich, J. (2002). The anti-adhesive activity of thrombospondin is mediated by the N-terminal domain of cell surface calreticulin. J. Biol. Chem. 277: 37219-37228.
Goverse, A., de Engler, J., Verhees, J., van der Krol, S., Helder, J. & Gheysen, G. (2000). Cell cycle activation by plant parasitic nematodes. Plant Mol Biol. 43: 747-761.
Helder, J., Smant, G., Goverse, A., Bakker, J. & Schots, A. (1998). Functional analysis of potato cyst ematode secretions. In: Proceedings of the 7th International Congress of Plant Pathology, Edinburgh, Uk, p.1.14.3S.
Hewezi, T., Howe, P., Maier, T., Hussey, R., Mitchum, M. Davis, E. & Baum, T. (2008). Cellulose binding protein from the parasitic nematode Heterodera schachtii interacts with Arabidopsis pectin methylesterase: cooperative cell wall modification during parasitism. Plant Cell. 20: 3080–3093.
Hewezi, T. & Baum, T. (2013). Manipulation of plant cells by Cyst and Root-Knot Nematode Efectors. Mol Plant- Microbe Interact. 26(1): 9-16.
Hogenhout, S., Van der Hoorn, R., Terauchi, R. & Kamoun, S. (2009). Emerging concepts in effector biology of plant.associated organisms. Mol Plant-Microbe Interact. 22:115-122.
Holaska, J., Black, B., Rastinejad, F. & Paschal, B. (2002). Ca(2+)-dependent nuclear export mediated by calreticulin. Mol. Cell. Biol. 22:6286-6297.
Hussey, R. (1989). Disease-inducing secretions of plant parasitic nematodes. Annu. Rev. Phytopathol. 27: 123-141.
Hussey, R. & Mims, C. (1990). Ultraestructure of esophageal glands and their secretory granules in the root-knot nematode Meloidogyne incognita. Protoplasma.156: 9-18.
Hussey, R. & Williamson, V. (1997). Physiological and molecular aspects of nematode parasitism. In: Barker, K.; Pederson, G. & Windham, G. (eds). Plant and Nematode Interactions. Madison, WI, USA: American Society of Agronomy. 87–108.
Jaubert, S., Milac, A., Petrescu, A., de Almeida-Engler, J., Abad, P. & Rosso, M. (2005). In Planta Secretion of a Calreticulin by Migratory and Sedentary Stages of Root-Knot Nematode. Mol Plant-Microbe Interact.
(12): 1277-1284.
Lamberti, F., Ciccarese, F., Sasanelli, N., Ambrico, A., D'addabbo T. & Schiavone, D. (2001). Relationships between plant parasitic nematodes and Verticillium dahliae on olive. Nematol. Mediterr., 29: 3 – 9.
Maier, T., Hewezi, T., Peng, J. & Baum, T. (2013). Isolation of whole esophageal gland cell from plant-parasitic nematodes for transcriptome analyses and effector identification. Mol Plant-Microbe Interact. 13:31-35.
Malallah, G., Afzal, M., Attia, T. & Abraham, D. (1996). Tapetal cell nuclear characteristics of some Kuwaiti plants. Citologia. 61: 259-267.
Moens, M., Perry, R. & Starr, J. (2009). Meloidogyne species - a diverse group of novel and important plant parasites. In: Perry, R.; Moens, M.; Starr, J. (Eds.), Rootknot Nematodes. CABI International, Cambrige, MA (USA), pp. 1-17.
Nickenig, G., Michaelsen, F., Muller, C., Berger, A., Vogel, T., Sachinidis, A., Vetter, H. & Bohm, M. (2002). Destabilization of AT(1) receptor mRNA by calreticulin. Circ. Res. 90:53-58.
Niebel, A., de Almeida Engler, J., Hemerly, A., Ferreira, P., Van Montagu, M. & Gheysen, G. (1996). Induction of cdc2a and cyc1At expression in Arabidopsis during early phases of nematode-induced feeding cell formation. Plant J. 10: 1037-1043.
Noe, J. (2006). Plant-Parasitic Nematodes. In: Trigiano, R., Windham, M. & Windham, A. (eds.). Plant pathology Concepts and Laboratory Exercises. CRC press. pp. 101-115.
Sacco, M., Koropacka, K., Grenier, E., Jaubert, M., Blanchard, A., Goverse, A., Smant, G. & Moffett, P. (2009). The cyst nematode SPRYSEC protein RBP- 1elicit Gpa2- and RanGAP2-dependent plant cell death. PLoS Pathog. 5:e1000564.
Smiley, R., Whittaker, R., Gourlie, J., Easley, S. & Ingham, R. (2005). Heterodera avenae density influences wheat yield in Oregon. J. Nematol. 37: 279-307. Smit, G., de Koster, C., Schripsema,
J., Spaink, H., van Brussel, A. & Kijne, J. (1995). Uridine, a cell división factor in pea roots. Plant Mol. Biol. 29:869-873. Vovlas, N., Rapoport, H., Jiménez Díaz, R. & Castillo, P. (2005). Differences in Feeding Sites Induced by Root-Knot Nematodes, Meloidogyne spp., in Chickpea Phytopathology 95:368-375.
Vovlas, N. & Troccoli, A. (2008). Pathogenicity and Host-Parasite relationships of Meloidogyne arenaria in Sweet Basil. Plant Diseases. 92: 1329-1335.
Wieczorek, K., Elashry, A., Quentin, M., Grundler, F., Favery, B., Seifert, G. & Bohlmann, H. (2014). A Distinct Role of Pectate Lyases in the Formation of Feeding Structures Induced by Cyst and Root-Knot Nematodes. Mol Plant-Microbe Interact. 27(9): 901-912.
Yu, P. & Viglierchio, D. (1964). Plant growth substances and parasitic nematodes. I. Root knot nematodes and tomato. Exp. Parasitol. 15: 242-248.
Riascos Ortíz, D. H. (2014). Los nematodos fitopatógenos como inductores de estrés biótico en plantas. Revista De Investigación Agraria Y Ambiental, 5(2), 259–267. https://doi.org/10.22490/21456453.1341
Cuando RIAA recibe la postulación de un original por parte de su autor, ya sea a través de correo electrónico o postal, considera que puede publicarse en formatos físicos y/o electrónicos y facilitar su inclusión en bases de datos, hemerotecas y demás sistemas y procesos de indexación. RIAA autoriza la reproducción y citación del material de la revista, siempre y cuando se indique de manera explícita el nombre de la revista, los autores, el título del artículo, volumen, número y páginas. Las ideas y conceptos expresados en los artículos son responsabilidad de los autores y en ningún caso reflejan las políticas institucionales de la UNAD