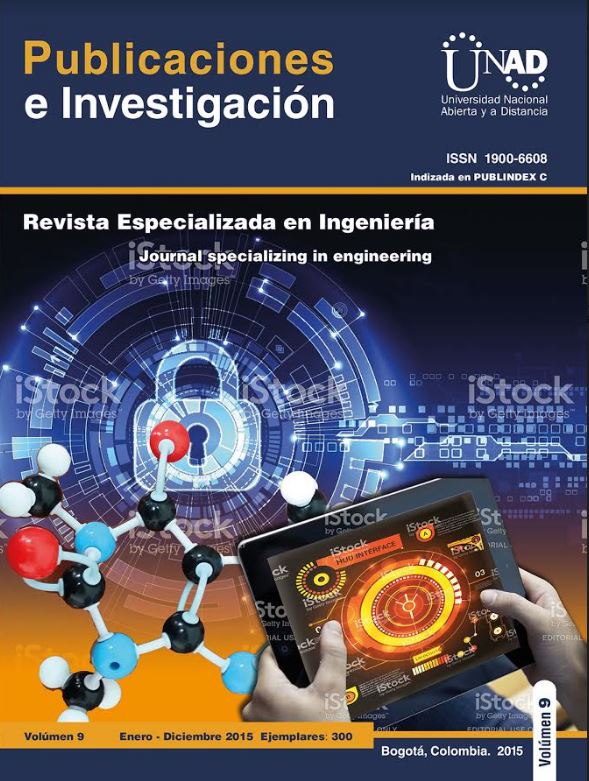 Descargas
Los datos de descargas todavía no están disponibles.
Catalizadores Organometálicos en la Industria Química
Sección
Artículo de revisión
Autores/as
Alfonso Enrique Ramírez Sanabria
Programa de Química, Universidad del Cauca, Popayán, Colombia.
, Colombia
Johny Roberto Rodríguez Pérez
Escuela de Ciencias Básicas Tecnología e Ingeniería, Universidad Nacional Abierta y a Distancia – UNAD, Bogotá, D.C., Colombia
, Colombia
Los procesos catalíticos son cada vez más importantes en la industria. Gran número de productos químicos incluyen dentro de su producción reacciones catalizadas. La catálisis se entiende como un proceso por el cual se aumenta la velocidad de una reacción química, debido a la participación de una especie química denominada catalizador. El presente trabajo recopila cinco procesos industriales en los cuales son empleados catalizadores organometálicos en fase homogénea. Busca resaltar la importancia que tienen los complejos
organometálicos como catalizadores, para la industria de química fina y farmacéutica. Se detallan aspectos mecanísticos en los que se puede ver el papel del centro metálico en las propiedades catalíticas del sistema, así como en la estructura del producto final.
catálisis homogénea, industria química, química organometálica.
A. E. Ramirez y J. Sandoval, "Tras las huellas de la catálisis", Popayan: Universidad del Cauca, 2014.
J. Smith, "History of catalysis", John Wiley & Sons, Encyclopedia of Catalysis, p. pp. 447–479. 2002, vol. 3.
J. Armor, "A history of industrial Catalysis", Catalysis Today, no 163, pp. 3-9, 2011, vol. 3.
J. Wauquier, "El Refino Del Petróleo: Petróleo Crudo, Productos Petrolíferos, Esquemas de Fabricación", Madrid: Diaz de Santos, 2004.
A. E. Ramirez, L. A. Vargas, N. E. Valderruten y M. P. Zuluaga, "Catalisis: una ciencia para una mejor calidad de vida," Boletin De La Vicerrectoria De Investigaciones, vol. pp. 9-11, 2008, vol 16.
D. Cole-Hamilton, "Homogeneous Catalysis—New Approaches to Catalyst Separation, Recovery, and Recycling," Science, no 5613, pp. 1702-1706, 2003, vol. 299.
S. Bhaduri y D. Mukesh, "Homogeneous Catalysis: Mechanisms and Industrial Applications", John Wiley & Sons, Inc., 2000.
A. Ahmadi, M. Danialia, S. Kazemia, S. Azamia y N. Alizadea, "Synthesis of Ibuprofen with Modified and Economical Process as an NSAID Drug", Journal of Applied Chemical Research, no 3, pp. 91-95, 2014, vol 8.
H. Cheung, R. Tanke y P. Torrence, "Ullmann's Encyclopedia of Industrial Chemistry", Wiley-VCH Verlag GmbH & Co. KGaA, 2000.
R. H. Crabtree, "The organometallic chemistry of the transition metals", John Wiley & Sons, Inc, 2005.
R. Schrock y V. Osborn, "What do we know about reactions mechanism? The electrospray ionization mass spectrometry approach", Journal of brazilian chemistry society, pp. 1827-1840, 2011, vol. 22.
Shaozhong Ge, R. Green y J. Hartwig, "Controlling First-Row Catalysts: Amination of Aryl and Heteroaryl Chlorides and Bromides with Primary Aliphatic Amines Catalyzed by a BINAP-Ligated Single-Component Ni(0) Complex,", Journal American Chemistry Society, no 4, p. 1617–1627, 2014, vol. 136.
≪Nobel Prize,≫ 2011. [En linea]. Available: http://www.nobelprize.org/nobel_prizes/chemistry/laureates/2001/advanced-chemistryprize2001.pdf. [Ultimo acceso: 10/10/2015
W. S. Knowles. Asymetric hydrogenations- the Monsanto L-Dopa process. Asymmetric Catalysis on Industrial Scale: Challenges, Approaches and Solutions, 2004.
W.S. Knowles, M.J. Sabacky y B.D, Vineyard. "DIAMP: 1,2-bis [(phenyl-o-methoxyphenyl) phospino]ethane" Journal Chemical Society Commun, p.10, 1972, vol. 2.
Ahlberg (2001). Asymetric hydrogenation. [En linea]. Disponible en: http://www.nobelprize.org/nobel_prizes/chemistry/laureates/2001/advanced-chemistryprize2001.pdf
J. L. Crawford, "Discovery, optimization and mechanims of new transformations proceeding via catalitic carbon-hydrogen bond activation", Los Angeles: University of California, 2002.
B. Vulovic, F. Bihelovic, R. Matovic y R. Saicic, ≪Organocatalyzed Tsuji–Trost reaction: a new method for the closure of five- and six-membered rings,≫ Tetrahedron, no 50, p. 10485–10494, 2009, vol. 65.
M. Oestreich, "The Mizoroki–Heck Reaction", John Wiley & Sons, Ltd, 2009.
J. M. Brown, P. H. Dixneuf, A. Furstner, L. S. Hegedus, P. Hofmann, P. Knochel, G. Van Koten, S. Murai y M. Reetz, "Organometallic Oxidation Catalysis Topics in Organometallic Chemistry", Springer, 2007. F. Csende y S. Geza, "Approaches to the formation of condesed isoindoles", Current Organic Chemistry, no 13, pp. 1261-1276, 2005, vol. 9.
V. Palermo, "Síntesis y caracterización de heteropoliácidos constituyendo materiales híbridos para su alicación como catalizadores en la oxidación ecocompatible de sulfuros", Buenos Aires: Universidad Nacional de la Plata, 2012.
F. Aguirre, "Oxidación catalitica de bencilamina y derivados de iminas", Universidad de Cantabria, 2014.
S. Ahmad, H. C. Mohammed, J. Shah, A. H. Mohd, K. Walter, V. A. Purushothaman y A. Y. Wageeh, "The influence of Ziegler-Natta and Metallocene catalysts on polyolefin structure, properties and processing ability", Materials, pp. 5069-5108, 2014, vol. 7.
L. S. Santos, "What do we know about reactions mechanism? The electrospray ionization mass spectrometry approach", Journal of Brazilian Chemistry Society, no 10, pp. 1827-1840, 2011, vol. 22.
W. Kaminsky, "Highly active metallocene catalysts for olefin polymerization", Journal of chemical society, Dalton transactions, no 9, pp. 1413-1418, 1998.
Ramírez Sanabria, A. E., & Rodríguez Pérez, J. R. (2015). Catalizadores Organometálicos en la Industria Química. Publicaciones E Investigación, 9, 51–64. https://doi.org/10.22490/25394088.1433
Cuando PUBLICACIONES E INVESTIGACIÓN recibe la postulación de un original por parte de su autor, ya sea a través de correo electrónico o postal, considera que puede publicarse en formatos físicos y/o electrónicos y facilitar su inclusión en bases de datos, hemerotecas y demás sistemas y procesos de indexación. PUBLICACIONES E INVESTIGACIÓN autoriza la reproducción y citación del material de la revista, siempre y cuando se indique de manera explícita el nombre de la revista, los autores, el título del artículo, volumen, número y páginas. Las ideas y conceptos expresados en los artículos son responsabilidad de los autores y en ningún caso reflejan las políticas institucionales de la UNAD