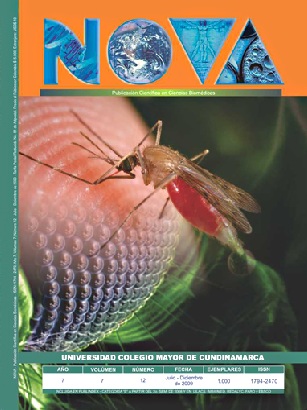 Descargas
Los datos de descargas todavía no están disponibles.
Cuantificación de ADN libre en plasma sanguíneo de voluntarios sanos en una población bogotana
Sección
Artículo producto de Investigación
Autores/as
Jairo Amaya Guio
Hospital de Engativá, Departamento de Ginecología
, Colombia
Fabio Ancizar Aristizabal Gutiérrez
Universidad Nacional de Colombia, Departamento de Farmacia
, Colombia
Ignacio Briceño Balcázar
Universidad de La Sabana, Facultad de Medicina
, Colombia
Marcos Castillo Zamora
Dinámica – IPS, Departamento de Colposcopia. Universidad de La Sabana, Facultad de Medicina
, Colombia
Dabeiba Adriana García Robayo
Pontificia Universidad Javeriana, Centro de Investigaciones Odontológicas
, Colombia
Hernán David Salazar Jordan
Pontificia Universidad Javeriana, Departamento de Biología
, Colombia
El ADN libre en sangre incrementa con algunas condiciones patológicas y ciertos estados fisiológicos. Varios reportes en la literatura han resaltado que el ADN libre en plasma o suero tiene potencial clínico como una posible herramienta para el pronóstico de cáncer en humanos. Sin embargo, hasta el momento no se tienen valores de referencia de individuos sanos con un tamaño de muestra representativo y tampoco se han descrito valores para poblaciones específicas como la bogotana. Es por ello que en el presente estudio se cuantificó la concentración de ADN libre en personas sanas de la población bogotana y así se estableció un rango normal o valor de referencia, adicionalmente se analizó la relación entre los niveles de ADN libre y las características como edad y género. La concentración de ADN libre en la población bogotana fue de 0,72 ng/μL y no se encontraron diferencias significativas entre las edades y los géneros.
ADN libre, ALU, PCR tiempo-real, rango de referencia.
Giacona MB, Ruben GC, Iczkowski KA, Roos TB, Porter DM, Sorenson GD. Cell-Free DNA in human blood plasma: length measurements in patients with pancreatic cancer and healthy controls. Pancreas. 1998;17:89-97.
Jung M, Klotzek S, Lewandowski M, Fleischhacker M, Jung K. Changes in concentration of DNA in serum and plasma during storage of blood samples. Clin Chem. 2003;49:1028-1029.
Stemmer C, Beau-Faller M, Pencreac'h E, Guerin E, Schneider A, Jaqmin D, Quoix E, Gabú MP, Oudet P. Use of magnetic beads for plasma cell-free DNA extraction: toward automation of plasma DNA analysis for molecular diagnostics. Clin Chem. 2003;49:1953-1955.
Sozzi G, Conte D, Leon ME, Cirincione R, Roz L, Ratcliffe C, Roz L, Cirenei N, Bellomi M, Pelosi G, Pierotti MA, Pastorino U. Quantification of free circulating DNA as a diagnostic marker in lung cancer. J Clin Oncol. 2003;21:3902 3908.
Pathak AK, Bhutani M, Kumar S, Mohan A, Guleria R. Circulating cell-free DNA in plasma/serum of lung cancer patients as a potential screening and prognostic tool. Clin Chem. 2006;52:1833-1842.
Jahr S, Hentze H, Englisch S, Hardt D, Fackelmayer FO, Hesch RD, Knippers R. DNA fragments in the blood plasma of cancer patients: quantitations and evidence for their origin from apoptotic and necrotic cells. Cancer Res. 2001;61:1659-65.
Fatouros IG, Destouni A, Margonis K, Jamurtas AZ, Vrettou C, Kouretas D, Mastorakos G, Mitrakou A, Taxildaris K, Kanavakis E, Papassotiriou I. Cell-free plasma DNA as a novel marker of aseptic inflammation severity related to exercise overtraining. Clin Chem. 2006;52:1820-1824.
Zhong XY, Hahn S, Kiefer V, Holzgreve W. Is the quantity of circulatory cell-free DNA in human plasma and serum samples associated with gender, age and frequency of blood donations?. Ann Hematol. 2006;86:139-143.
Steinman CR. Free DNA in serum and plasma from normal adults. J Clin Invest. 1975;56:512-515.
Trejo-Becerril C, Oñate-Ocaña LF, Taja-Chayeb L, Vanoye-Carlo A, Cetina L, Dueñas-Gonzalez A. Serum nucleosomes during neoadjuvant chemotherapy in patients with cervical cancer. Predictive and prognostic significance. BMC Cancer. 2005;5:65.
Dong SM, Pai PI, Rha SH, Hildesheim A, Kurman RJ, Schwartz PE, Mortel R, McGowan L, Greenberg MD, Barnes WA, Sidransky D. Detection and quantitation of human Papillomavirus DNA in the plasma of patients with cervical carcinoma. Cancer Epidemiol Biomarkers Prev. 2002;11:3-6.
Pornthanakasem W, Shotelersuk K, Termrungruanglert W, Voravud N, Niruthisard S, Mutirangura A. Human papillomavirus DNA in plasma of patients with cervical. Cancer. BMC Cancer. 2001;1:2.
Rogachev VA, Likhacheva A, Vratskikh O, Mechetina LV, Sebeleva TE, Bogachev SS, Yakubov LA, Shurdov MA. Qualitative and quantitative characteristics of the extracellular DNA delivered to the nucleus of a living cell. Cancer Cell Int. 2006;6-23.
Wu TL, Zhang D, Chia JH, Tsao KC, Sun CF, Wu JT. Cell-free DNA: measurement in various carcinomas and establishment of normal reference range. Clin Chim Acta. 2002;321:77–87.
Sozzi G, Conte D, Mariano L, Lo Vullo S, Roz L, Lombardo C, Pierotti MA, Tavecchio L. Analysis of circulating tumor DNA in plasma at diagnosis and during follow-up f lung cancer patients. Cancer Res. 2001;61:4675-4678.
Anker P, Mulcahy H, Chen XQ, Stroun M. Detection of circulating tumor DNA in the blood (plasma/serum) of cancer patients. Cancer Metastasis Rev. 1999;18:65–73.
Umetani N, Hiramatsu S, Hoon DS. Higher amount of free circulating DNA in serum than in plasma is not mainly caused by contamined extraneus DNA during separation. Ann NY Acad Sci. 2006;1075:299-307.
Umetani N, Kim J, Hiramatsu S, Reber HA, Hines OJ, Bilchik AJ, Hoon DSB. Increased integrity of free circulating DNA in sera of patients with colorectal or periampullary cancer: Direct quantitative PCR for ALU repeats. Clin Chem. 2006;52:1062-1069.
Lui YY, Chik KW, Chiu RW, Ho CY, Lam CW, Lo YM. Predominant hematopoietic origin of cf-DNA in plasma and serum after gender-mismatched bone marrow transplantation. Clin Chem. 2002;48:421–427.
Amaya Guio, J., Aristizabal Gutiérrez, F. A., Briceño Balcázar, I., Castillo Zamora, M., García Robayo, D. A., & Salazar Jordan, H. D. (2009). Cuantificación de ADN libre en plasma sanguíneo de voluntarios sanos en una población bogotana. Nova, 7(12), 136–142. https://doi.org/10.22490/24629448.427