Amniocentesis precoz y biopsia de vellosidad corial. Pérdidas fetales y anomalías congénitas en un grupo de gestantes brasileñas
Palabras clave:
amniocentesis precoz, biopsia de vellosidad corial, pérdida fetal, anomalías congénitas.
Resumen
En el Instituto de Medicina Fetal y Genética Humana de São Paulo se ofrecen, a las gestantes que tienen un riesgo aumentado para anomalías cromosómicas, diferentes técnicas, entre ellas, la Biopsia de Vellosidad Corial Transabdominal (BVCTA) y la Amniocentesis Precoz (AP). El objetivo del presente estudio es realizar una comparación de la frecuencia de pérdidas fetales y anomalías congénitas presentadas en cada uno de los procedimientos, ambos realizados por los mismos operadores, en la misma edad gestacional (12-14 6/7 semanas) y bajo un abordaje transabdominal. Fueron analizadas retrospectivamente 432 AP y 418 BVCTA. Todos los procedimientos de colecta fueron monitorizados por ultrasonografía. La frecuencia de pérdidas fetales espontáneas fue del 4,9 % en AP y de 5,3 % en BVCTA, una diferencia no significativa. No se encontraron diferencias significativas entre los dos procedimientos al comparar las frecuencias de pérdidas en cada semana de gestación. Sangrado y pérdida de líquido amniótico fueron más frecuentes en AP que en la BVCTA. Esa diferencia fue significativa en el caso de la pérdida de líquido amniótico. En algunos
casos este hallazgo se relacionó con pérdida fetal. La incidencia de prematuridad y bajo peso al nacimiento no difirió significativamente entre los dos procedimientos. La mayor frecuencia de problemas respiratorios registrada en AP no fue significativa en comparación con BVCTA. No se observó diferencia significativa en la incidencia de anomalías músculo-esqueléticas. La amniocentesis después de catorce semanas presenta un bajo riesgo de pérdida fetal o anomalías congénitas. La BVCTA, debe ser realizada alrededor de la semana doce de gestación.
Citas
Tabor A, Madsen M, Obel E, Philip J, Bang J, Noergard-Peterson B. Randomised controlled trial of genetic amniocentesis in 4606 low-risk women. Lancet.1986; 1: 1287-1293.
Reece E. Amniocentese genética precoce e nos trimestres intermediários. Segurança e resultados. Clínicas Obstétricas e Ginecológicas da América do Norte. Diagnostico e Tratamento Fetal. Vol 1. Rio de Janeiro: Interlivros; 1997.
Eddleman K, Malone F, Sullivan L, Dukes K, Berkowitz R, Kharbutli Y, and others. Pregnancy loss rates after midtrimester amniocentesis. Obstet Gynecol. 2006; 108(5): 1067–72.
Kong C, Leung T, Leung T, Chan L, Sahota D, Fung T, and others. Risk factors for procedure-related fetal losses after mid-trimester genetic amniocentesis. Prenat Diagn. 2006; 26(10): 925–30.
Anuwutnavin S, Chanprapaph P, Ruangvutilert P, Eammatta M, Tontisirin P. Short-term outcomes after second-trimester genetic amniocentesis in Siriraj Hospital. International Journal of Gynecology and Obstetrics. 2014; 124: 222–225. doi: 10.1016/j.ijgo.2013.09.019.
Connolly K, Eddleman K. Amniocentesis: A contemporary review. World J Obstet Gynecol. 2016; 5(1): 58-65.
Bernal L. Evaluación de la amniocentesis precoz en una institución brasileña de diagnóstico prenatal. NOVA. 2012; 10(17): 12-24.
Naccache N, GollopT, Auler-Bittencourt E, Vianna-Morgante A, Eigier A. Cytogenetic analysis of first trimester chorionic villi sampling. Rev. Brasil. Genet. 1987; 10: 277-287.
Gollop T, Pieri P, Naccache N, Auler-Bittencourt E, Eigier A, Hauschild D. Transabdominal Chorionic Villus Sampling: experience with 70 cases. Rev. Brasil. Genet. 1990; 13(3): 591-597.
Gollop T, Naccache N, Campos I, Fieri P. Amostra de Vilo Corial: 1.290 casos. Rev. Brasil. Ginecol. Obstet. 1993; 15(2): 84-87.
Cederholm M, Axelsson O. A prospective comparative study on transabdominal chorionic villus sampling and amniocentesis performed at 10-13 weeks gestation. Prenat Diagn. 1997; 17(4): 311-317.
CEMAT, The Canadian Early and Mid-Trimester Amniocentesis Trial Group. Randomised trial to asses safety and fetal outcome of early and midtrimester amniocentesis. Lancet. 1998; 351:242-247.
Al Ibrahim A, Zidan M, Obaidly S, Khenyab N, Al Jenahi N, Al Mansori Z, Bolushi M, and others. Early Amniocentesis: The Resurrection. Qatar Foundation Annual Research Conference Proceedings. 2016.
Gollop T, Eigier A, Vianna-Morgante A, Naccache, N. Chorionic villi sampling for early prenatal genetic diagnosis. Rev. Brasil. Genet.. 1986; 9: 381-385.
Nicolaides K, Brizot M, Patel F, Snijders R. Comparison of Chorion Villus Sampling and Early Amniocentesis for karyotyping in 1492 singlenton preqnancies. Fetal. Diagn. Ther. 1996; 11: 9-15.
Chuet J, Goldberg J, Wohlferd M, Golbus M. Comparision of transcervical and transabdominal chorionic villus sampling loss rate in nine thousand from a single center. Am. J. Obstet. Gynecol. 1995; 173: 1277-1282.
Smidt-Jensen S, Permin M, Phillip J, Lundsteen, C, Zachary, J, Fowler S et al. Randomized comparison of amniocentesis and transabdominal and transcervical chorionis villus sampling. Lancet. 1992; 340: 1237-1244.
Brambati B, Terzian E, Tognoni G. Randomized clinical trial of transaddominal versus transcervical chorionic villus sampling methods. Prenat. Diagn. 1991; 11: 285 293.
Fortuny A, Borrell A, Soler A, Casals E, Costa D, Carrio A, and others. Chorionic villus sampling by forceps. Results of 1580 procedures from single centre. Prenat. Diagn. 1995;
Penso C, Sandstrom M, Garber M, Ladoulis M, Stryker J, Benacerraf, B. Early Amniocentesis: Report of 407 cases with neonatal follow-up. Obstet. Gynecol. 1990; 76: 1032-1036.
Sato K, Izuta M, Kojima T, Miyakawa T, Yokoo I, Takahashi K, and others. Early amniocentesis risk and laboratory evaluation. Acta. Obstet. Gynaecol. Jpn. 1992; 44: 1285-1288.
Stripparo L, Buscaglia M, Longatti L, Ghisoni L, Dambrosio F, Guerneri, S, and others. Genetic amniocentesis: 505 cases performed before the sixteenth week of gestation. Prenat. Diagn. 1990; 10: 359-364.
Bravo R, Schulman L, Phillips O. Transplacental needle passage in early amniocentesis and pregnancy loss. Obstet. Gynecol. 1995; 86: 437-440.
Johnson J, Wilson R, Winsor E, Singer J, Dansereau J, Kalousek, D. The Early Amniocentesis Study: A randomized clinical trial of early amniocentesis versus midtrimester amniocentesis. Fetal. Diagn. Ther. 1996; 11: 85-93.
Elejalde B, de Elejalde M, Acuna J, Thelen D, Trujillo C, Karrmann M. Prospective study of amniocentesis performed between weeks 9 and 16 of gestation: Its feasibility, risks, complications and use in early genetic prenatal diaqnosis. Am. J. Med. Genet.. 1990; 35: 188-196.
Brumfield C, Lin S, Conner W, Cosper P, Davis R, Owen J. Pregnancy outcome following genetic amniocentesis at 11-14 versus 16 -19 weeks gestation. Obstet. Gynecol. 1996; 88(1): 114-118.
Eiben B, Hammans W, Hansen S, Trawicki W, Osthelder B, Stelzer A, and others. On the complication risk of Early Amniocentesis versus Standard Amniocentesis. Fetal. Diagn. Ther. 1997; 12: 140-144.
Daniel A, N, Kuah K, Reiha S, Malafiej P. A study of early amniocentesis for prenatal cytogenetic diagnosis. Prenat. Diagn. 1998; 18(1): 21-28.
Schulman L, Elias S, Simpson, J. Early amniocentesis: Complications in initial 150 cases compared to complication in initial 150 cases transabdominal chorionic villus sampling. Am. J. Human. Genet. 1991; 49: 231.
Nagel H, Vandenbussche F, Keirse M, Oepkes D, Oosterwijk J, Beverstock G, and others. Amniocentesis before 14 completed weeks as an alternative to transabdominal chorionic villus sampling: A controlled trial with infant follow-up. Prenat Diagn. 1998; 18: 465-475.
Philip J, Silver R, Wilson R, Thom E, Zachary J, Mohide P, and others. Late First-Trimester Invasive Prenatal Diagnosis: Results of an International Randomized Trial. Obstetrica and Gynecology. 2004; 103(6): 1164-117
Liu D, Jeavons B, Preston C, Pearson D. A prospective study of spontaneous miscarriage in intrasonically normal pregnancies and relevance to chorionic villus sampling. Pnenat. Diagn. 1987; 7: 223-226.
Frates M, Benson C, Doubilet M. Pregnancy outcome after a first trimester sonogram demonstrating fetal cardiac activity. J. Ultrasound. Med. 1993; 12: 383-386.
Tharmaratnam S, Sadek S, Steele E, Harper M, Stewart F, Nevin J, and others. Early amniocentesis: Effect of removing a reduced volume of amniotic fluid on pregnancy outcome. Prenat. Diagn. 1998; 18:773-778.
Wulff C, Gerds T, Rode L, Ekelund C, Petersen O, Tabor A. Risk of fetal loss associated with invasive testing following combined first-trimester screening for Down syndrome: a national cohort of 147987 singleton pregnancies. Ultrasound Obstet Gynecol. 2016; 47: 38-44.
Sundberg K, Jorgensen F, Bang J. Experience with early amncentesis. J Perinat Med. 1995; 23: 149-158.
Tharmaratnam S, Sadek S, Steele E, Harper M, Nevin N, Dornan C. Transplacental early amniocentesis and pregnancy outcome. British Journal of Obstetrics and Gynaecology. 1998; 105(2): 228-230.
Zelig C, Knutzen D, Ennen C, Dolinsky B, Napolitano P. Chorionic Villus Sampling, Early Amniocentesis, and Termination of Pregnancy Without Diagnostic Testing: Comparison of Fetal Risk Following Positive Non-invasive Prenatal Testing. J Obstet Gynaecol Can. 2016; 38(5): 441-445
Hanson F, Tennant F, Hune S, Brookhyser K. Early amniocentesis: Outcome, risk, and technical problems at 12.8 weeksor less. Am. J. Obstet. Gynecol. 1992; 166: 1707-1711.
Sundberg K, Bang J, Smidt-Jensen S, Brocks V, Lundsteen C, Pamer J, and others. Randomised study of risk of fetal loss related to early amniocentesis versus chorionic villus sampling. Lancet. 1997; 350: 697-703.
Akolekar R, Beta J, Picciarelli G, Ogilvie C, D'Antonio F. Procedure-related risk of miscarriage following amniocentesis and chorionic villus sampling: a systematic review and meta-analysis. Ultrasound Obstet Gynecol. 2015; 45: 16–26
Tara F, Lotfalizadeh M, Moeindarbari S. The effect of diagnostic amniocentesis and its complications on early spontaneous abortion. Electronic Physician. 2016; 8(8): 2787- 2792.
Ghi T, Sotiriadis A, Calda P, Da Silva Costa F, Raine-Fenning N, Alfirevic Z, McGillivray G, on behalf of the International Society of Ultrasound in Obstetrics and Gynecology. ISUOG Practice Guidelines: invasive procedures for prenatal diagnosis in obstetrics. Ultrasound Obstet Gynecol. 2016; 48: 256–268.
Firth H, Boyd P, Chamberlain P, Mackenzie I, Lindenbaum R, Huson S. Severe limb abnormalities after chorionic villus sampling at 56-66 days gestation. Lancet. 1991; 337: 762- 763.
Hoyme H, Jones K, Van Allen M, Saunders B, Benirschke K. Vascular pathogenesis of transverse limb reduction defects. J. Pediatr 1982; 101: 839-843.
Wapner, R. Amostragem do Vilo Coriónico. Clínicas Obstétricas e Ginecológicas da América do Norte. Diagnóstico e Tratamento Fetal. Reece E.A. Vol 1. Rio de Janeiro: Interlivros; 1997.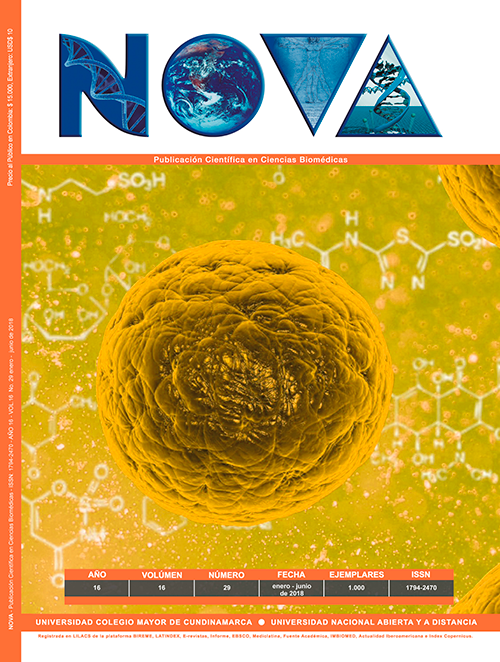 Descargas
Cómo citar
Bernal, L. M., Bernal, M. C., & Gollop, T. (2018). Amniocentesis precoz y biopsia de vellosidad corial. Pérdidas fetales y anomalías congénitas en un grupo de gestantes brasileñas. Nova, 16(29), 51–61. https://doi.org/10.22490/24629448.2689
Sección
Artículo producto de Investigación