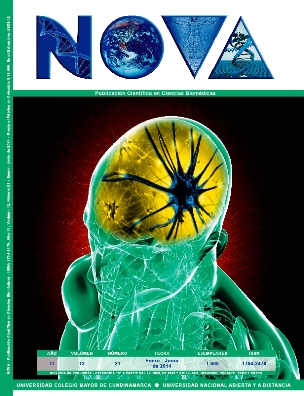 Descargas
Los datos de descargas todavía no están disponibles.
Validación de un instrumento para valorar la adherencia de pacientes al tratamiento hipertensivo
Autores/as
José Yamid Bolaños Cardozo MD. Mag, Dr. (C).
Universidad Nacional Abierta y a Distancia, UNAD
, Colombia
Se validó un instrumento diseñado para medir la adherencia al tratamiento hipertensivo conformado por 10 ítems tipo Escala Likert. Se evaluó la validez de constructo mediante análisis factorial y confiabilidad por medio del Alpha de Cronbach. El análisis factorial permitió agrupar los ítems en torno a los factores que componen dicho constructo. El valor de Alfa obtenido (0,515) corresponde a un valor moderado lo que significa que el instrumento puede ser utilizado como técnica adecuada de recolección de datos.
confiabilidad, hipertensión, validez de contenido, validez de constructo.
Ross, S., Walker, A. y MacLeod, M.J. Patient compliance in hypertension: Role of illness perceptions and treatment beliefs. Journal of Human Hypertension. 2004;18: 607-613.
Miller, N.H. Compliance with treatment regimens in chronic asymptomatic diseases. American Journal of Medicine. 1997; 102: 43-49.
Svensson, S., Kjellgren, K.L., Ahlner, J. y Saljo, R. Reason for adherence with antihypertensive medication. International Journal of Cardiology. 2000; 78: 157-163.
Thrall, G., Lip, G.Y.D. y Lane, D. Compliance with pharmacological therapy in hypertension: Can we do better, and how? Journal of Human Hypertension. 2004; 18: 595-597.
Wogen, J., Kreilick, C., Livornese, R.G. y Frech, F. A population- base d study of complianceand persistency with cardiovascular agents used in hypertension management. Journal of Hypertension. 2001; 4: 2-12A.
August P. Initial treatment of hypertension. N Engl J Med. 2003; 348 (7): 610-617.
Pescatello LS, Franklin BA, Fagard R, et al. American College of Sports Medicine. Position stand exercise and hypertension. Med Sci Sports Exerc. 2004; 36 (3): 533-553.
Luciano, M.C. y Herruzo, J. Some relevant components of adherence behavior. Journal of Behavior Therapy and Experimental Psychiatry. 1992; 23: 117-124.
Brondolo, E., Raymond, C., Rosen, P., John, B. y Kostis, M. Relationship of physical and mood to perceived and actual blood pressure in hypertensive men: A repeated-mesures desing. Psychosomatic Medicine. 1999; 61: 311-318.
Gil Roales-Nieto, J. Manual de Psicología de la Salud. Comportamiento y Salud/Enfermedad. Granada: Némesis. 2000 (2).
Leventhal, H., Meyer, D. y Nerenz, D. The commonsense representation of illness danger. En S. Rachman (Ed.), Contributions to medical psychology. Oxford: Pergamon Press.1980; 2: 7-30.
Visdómine, C. y Luciano. C. Locus de control y autorregulación conductual: revisiones conceptual y experimental. International Journal of Clinical and Health Psychology. 2006; 6: 729-751.
Colas, M. y Buendia, L. Investigación Educativa. Sevilla, España: Ediciones Alfar. 1998.
Canales, M. Metodología de investigación social. Introducción al oficio. Chile: LOM Ediciones. 2006.
Granados Gámez, G., Gil Roales-Nieto, J. e Ybarra Sagarduy, J.L. Un estudio exploratorio sobre el desarrollo de creencias sobre síntomas como señales de hipertensión arterial. Psicothema. 2006; 18: 822-827.
Higgins, L.J. The associations of personal body awareness, symptom perception, and time line anticipation with adherence behavior of adults with primary hypertension. Doctoral
Hernández, R. Fernández, C. y Baptista, P. Metodología de la investigación. Editorial McGraw-Hill. 1996.
Haynes RB, Ackloo E, Sahota N, McDonald HP, Yao X. Interventions for enhancing medication adherence.
Ross S, Walker A, MacLeod MJ. Patient compliance in hypertension: Role of illness perceptions and treatment belief. J Hum Hypertens. 2004; 18: 607-13. http://dx.doi.org/10.1038/sj.jhh.1001721
Petrie KJ, Jago LA, Devcich DA. The rol of illness perceptions in patients of medical conditions. Curr Opin Psychiatry. 2007; 20: 163-7. http://dx.doi.org/10.1097/YCO.0b013e328014a871
Rumbo JM, Arantón L, Goas UR, López N, Rivera P, Campos JM. Legibilidad de la documentación escrita en UCI. Neuquén: Federación Argentina de Cardiología; 2005. http:www.fac.org.ar/ccvc/llave/tl187/tl187.pdf
Rodríguez, H., Molero, M. y Acosta, L. Cumplimiento del tratamiento antihipertensivo en un área de salud. 2004. http://www.monografias.com/trabajos15/antihipertension/antihipertension.shtml.
Bolaños Cardozo MD. Mag, Dr. (C)., J. Y. (2014). Validación de un instrumento para valorar la adherencia de pacientes al tratamiento hipertensivo. Nova, 12(21), 115–119. https://doi.org/10.22490/24629448.1001